Choose the Hotel SATEL*** in Poprad for your sports training camp and we will guarantee you that you can fully concentrate on your team and its sports achievements. We will take care of the attendees' wellbeing, having everything they need at hand and the sports training camp running exactly according to your plan.
In winter you can savour your fairy-tale skiing in the close Snowpark Lučivná and Tatranská Lomnica ski centres. Cross-country skiing is an inseparable part of winters in the High Tatras. Groomed cross-country trails of various levels attract advanced and beginner skiers. Ski mountaineering, snowshoeing and Nordic walking are among the popular activities.
You cannot let a summer spent in the mountains go. Hiking, golf, horse riding, jogging and in-line skating belong to the popular activities of the area. In the town of Poprad there are sports halls available for sports lovers. The guests of the Hotel SATEL*** in Poprad can use a 15 % discount in the CityBowling bowling centre.
Snowpark Lučivná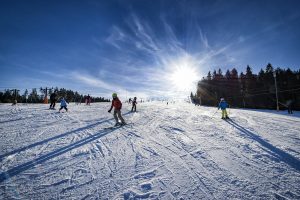 The nearby Snowpark Lučivná ski centre, that offers skiing opportunities in the picturesque area of the sub-Tatra region and featuring wonderful panoramic views of the majestic High Tatras, is recommended for the littlest fans of skiing by us. Skiers appreciate always perfectly groomed wide sunny slopes. You will see with your own eyes that Snowpark Lučivná is a quality ski centre suitable for whole families and with reasonable prices. Snowtubing, an unusual downhill ride on special inflatable rubber wheels is a popular attraction in Lučivná and it guarantees a whole-day fun.
Tatranská Lomnica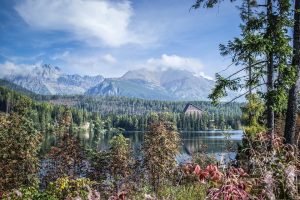 This is the highest located ski resort in Slovakia, offering almost 6 km of easier slopes ideal especially for families with children. The attractiveness of the slope at Lomnické sedlo – Lomnické Saddle with its groomed terrains as high as 2196 m above the sea level is a joy not just for common skiers, free riders, adrenaline lovers but also for individualists. The Tatranská Lomnica resort offers snow cover for five months of the year, offers top modern chairlifts and cable cars, wider slopes and all these guarantee amazing experiences on a first class carving track.
National Training Centre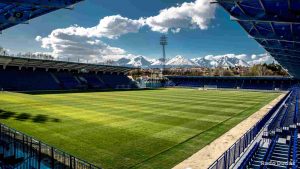 This is an ideal setting for various kinds of events in Poprad. Sport camps, test matches and trainings for home and international teams of all ages. In the centre there is a high-quality natural grass pitch situated in the stadium with a capacity of 5 700 onlookers. More training play areas with natural and artificial grass are located within a very close vicinity from the centre.
Multi-purpose Sporting Arena Aréna Poprad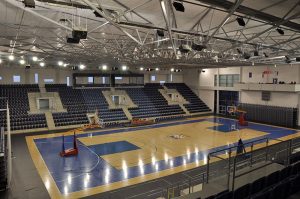 The arena belongs among the top modern sporting halls in Europe. The building is suitable for sports but also for cultural and social use. The arena offers wide choice of utilities – sport camps, competitions, international events, performances of groups, singing concerts, exhibitions, conferences, company meetings and other social gatherings.